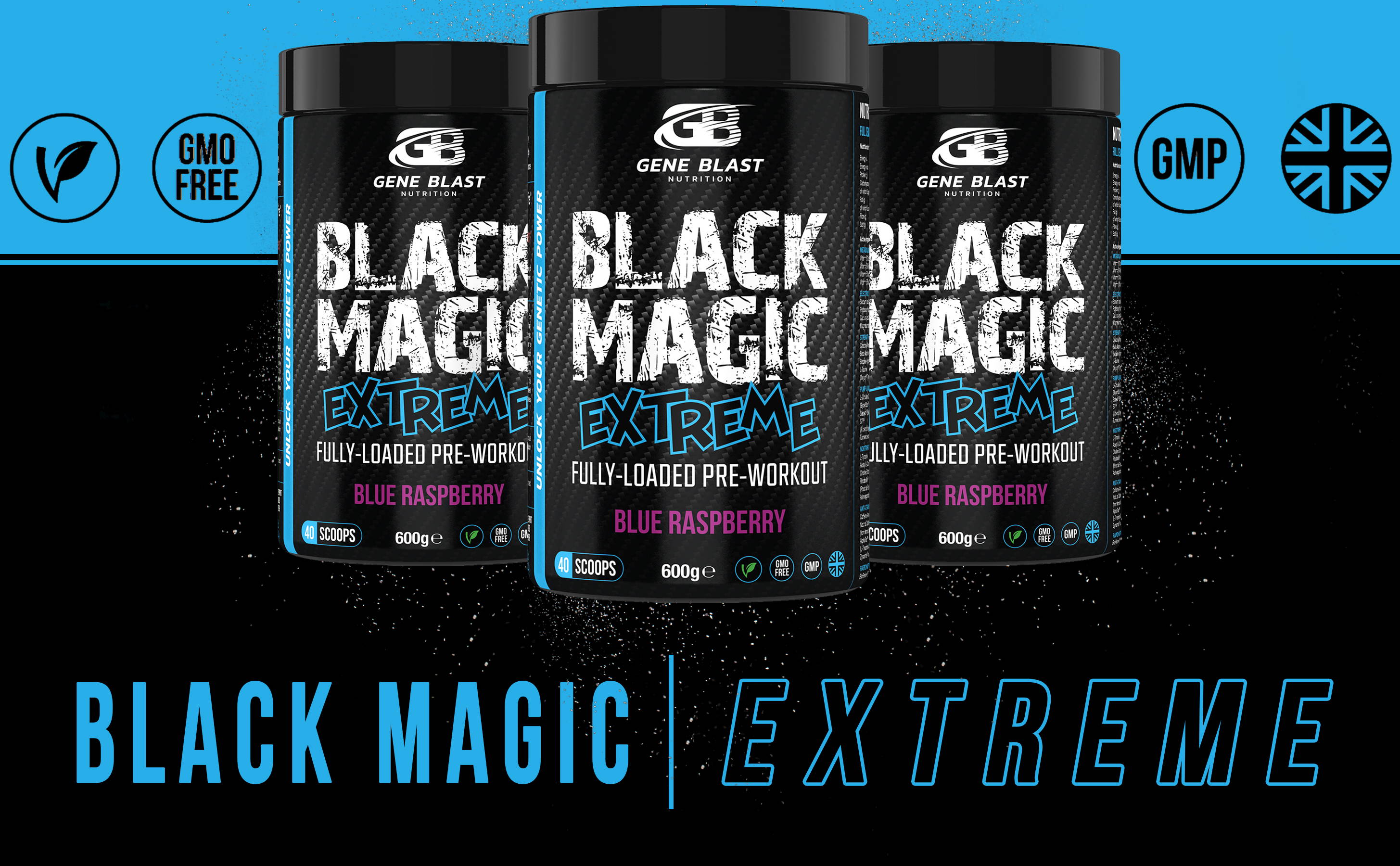 27 ACTIVE INGREDIENTS TO BOOSTSTRENGTH, FOCUS & ENDURANCE: To improve your muscle and athletic performance, we empowered Black Magic with L-Taurine, Beta-Alanine, Oxyjun(unique botanical extract to exercise longer with higher intensity &without exhaustion) Betaine, and Creatine Monohydrate. Meaning you are all set to lift longer and gain more from your workouts. Not to mention that with the large 600g pre-workout Black Magic EXTREME tub, you get a lot more for less compared to other brands.
INCREASE FOCUS & ENERGYWITH NOOTROPICS: To give you a sustainable energy boost and immense focus throughout the whole workouts, our pre workout powder for men and women features a variety of popular nootropics that work such as the anti-crash smart caffeine combo of Caffeine and L-Theanine, L-Tyrosine, Rihodiola Rosa and Ashwagandha. There is also the superior Zynamite that enhances mental energy& brain electrical activity.
IMPROVED VASCULARITY &ABSORPTION: We believe that the proper function of the blood vessels and the absorption of all these pre-workout ingredients is the key to the best results. That's why we enhanced the pre workout with L-Citrulline, GlycerSize, Sabeet, & S7 (known compounds that promote healthier blood vessels, better blood flow and pump, as well as BioPerin for better and faster absorption.
SUPERCHARGE & HYDRATESCELLS WITH ELECTROLYTES: Unlike most pre-workout supplements, Black MagicPre-Workout includes a variety of powerful electrolytes, which are electrically charged minerals and compounds essential for energy. One of the key ingredients GlycerSize which is a glycerol powder which offers enhanced hydration,increased stamina, and full saturated muscles. Boost your running, cardio, and lifting session with proper cell hydration using Sodium, Potassium, Calcium, and Magnesium
ENHANCES METABOLISM TO USEFATS FOR ENERGY: Maximize your workouts and gains by improving strength and endurance with the 27-in-1 Gene Blast Nutrition BLACK MAGIC PRE-WORKOUT. Ourpre workout powder features a potent Vitamin B complex, vitamins which areknown to help the body convert fats and proteins into energy, and also in the breakdown of carbohydrates. Black Magic is NON-GMO pre workout powder suitable for Kosher, Halal, Vegan, Vegetarian diets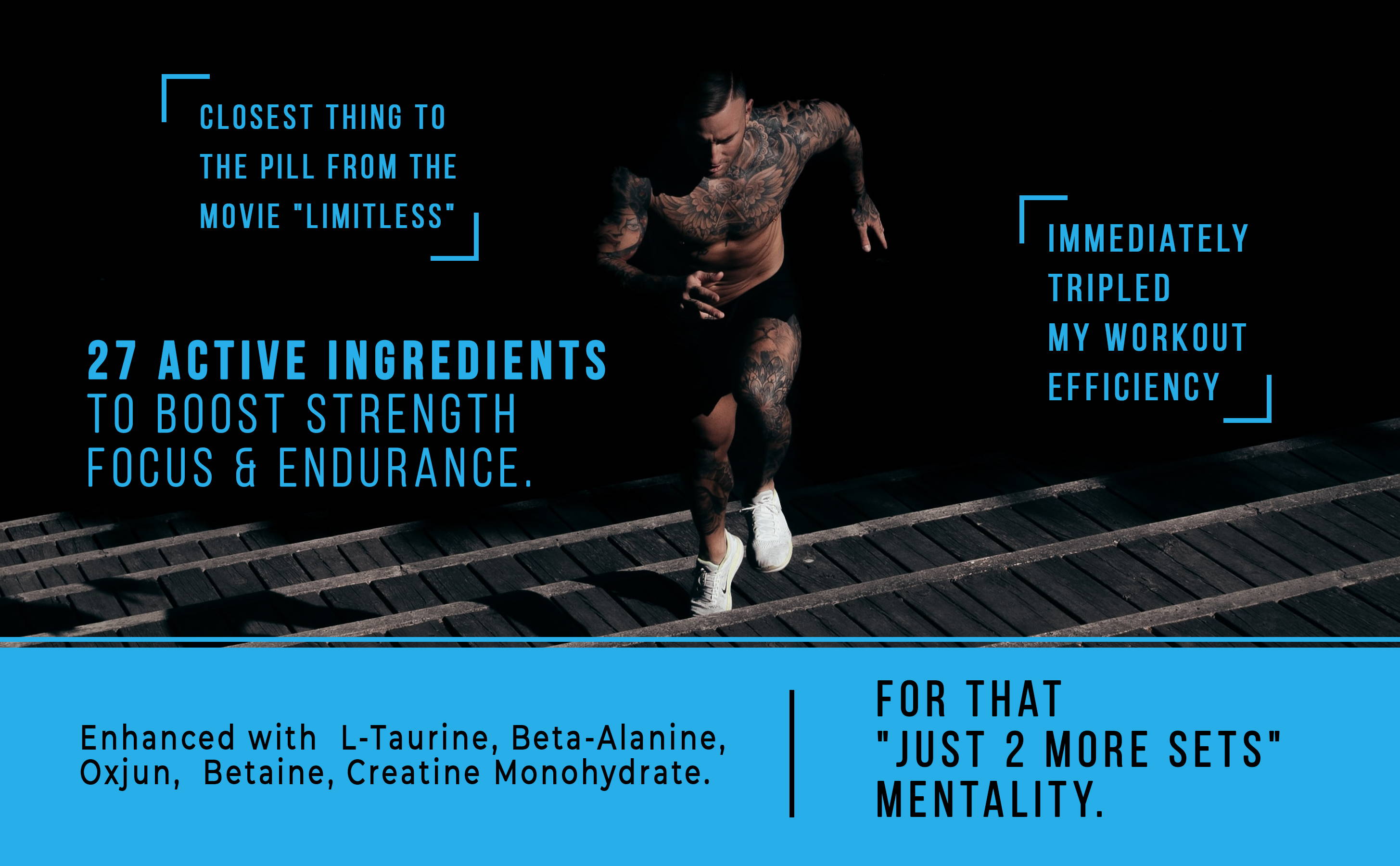 27 Active Ingredients
600g Tub-40 Servings
Strength & Endurance
Intense Pumps
Focus & Energy
Anti Crash Formula
Halal-Kosha-Vegan-Vegetarian Friendly
Made In UK-NON GMO
Suitable For Men & Woman
For best results: Take 2 scoops with 350ml of ice cool water
For beginners and those that want to test their tolerance take 1 scoop with 250ml ice cool water
Consume 20-30 minutes before hitting the gym
Do not consume with alcohol or exceed suggested dose
Intended: For all those that partake in Strenuous - physical - Endurance - Energy - Heavy Lifting - Gym - Sports
For best results keep hydrated before, during and after the workout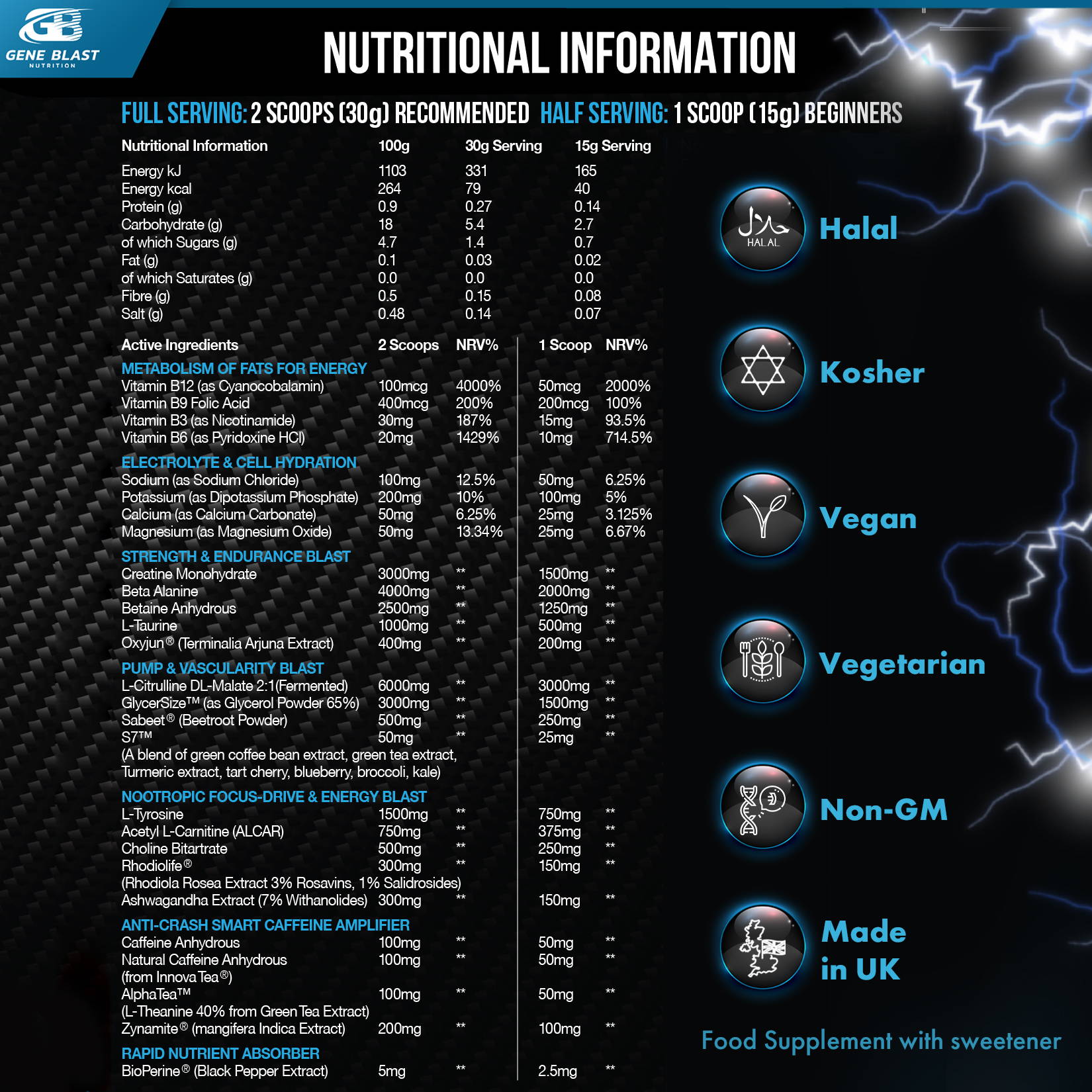 We use a safe and secure payment gateway for all transactions
We aim to dispatch orders placed before 2pm Monday to Friday the same day. All orders placed after 2pm Monday-Friday will be handled and dispatched the next working day.
Delivery 2-3 Days £3.00
Delivery 1-2 Days £3.68
Delivery 1-2 Days £4.68 Signed for service (signature required) aim for next day delivery
Free Deliveries for all orders over £45.00
Deliveries can only be made to UK Mainland and Ireland only
See our Refund policy for returns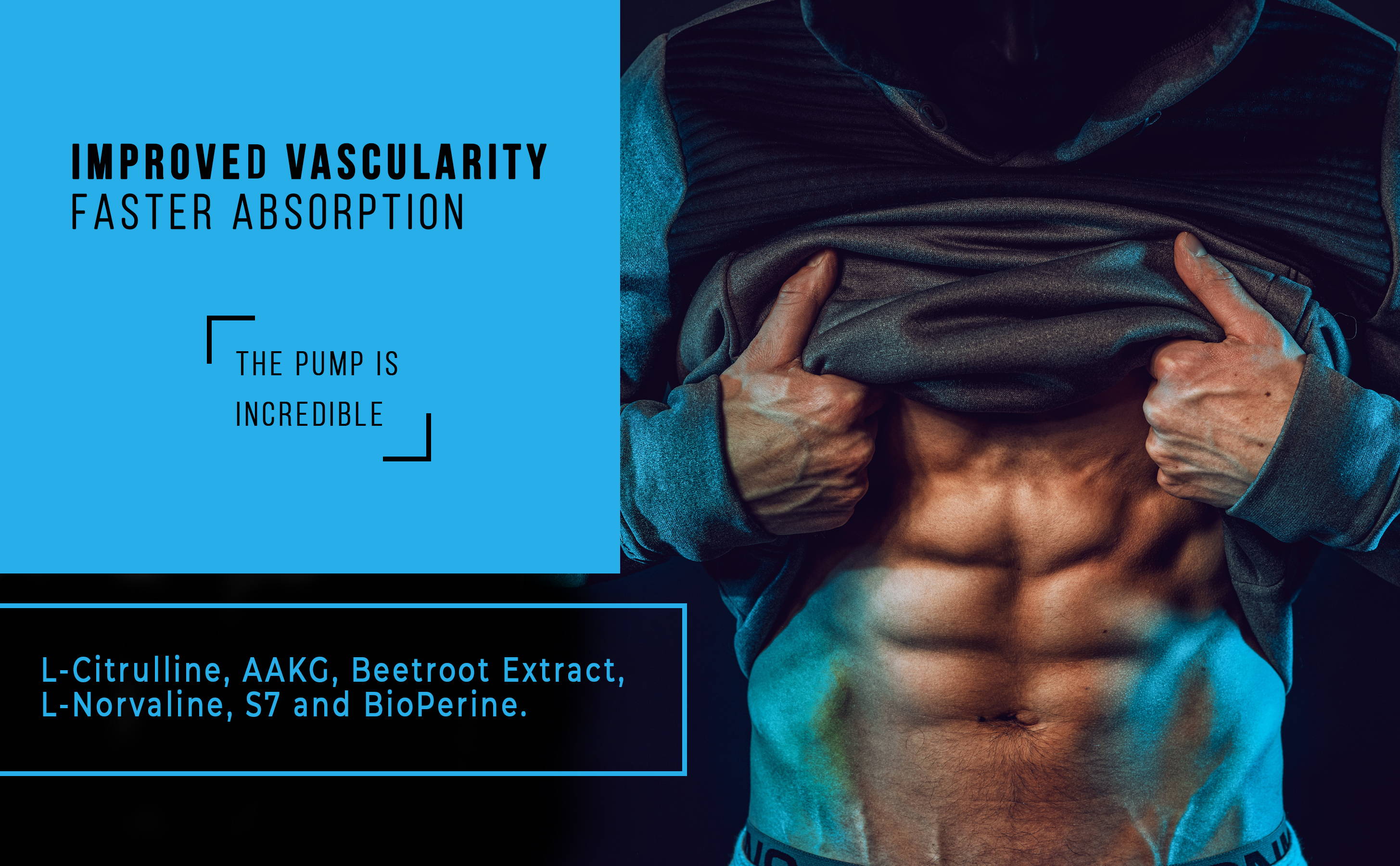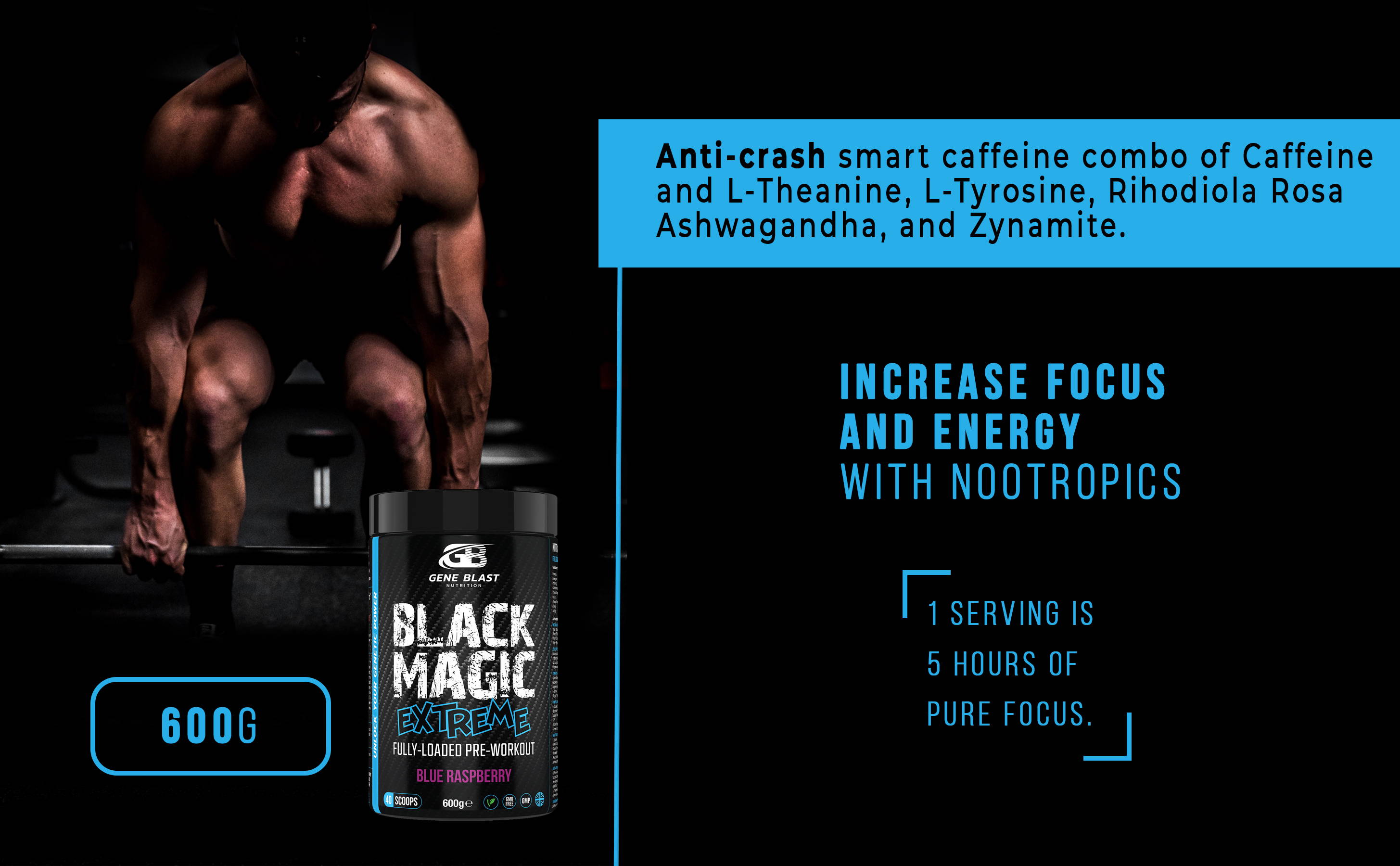 ►3 Flavours to Choose From
You can have amazing Pre-Workout formulation, but it wouldn't be complete without an enjoyable taste. Here at Gene Blast Nutrition we did numerous testing to complete 3 authentic and delicious flavours. Choose from Chocolate Blue Raspberry, Green Apple and Fruit Punch.
► A Nutrition Brand You Can Trust
When it comes supplement consumption, you are reasonably concerned about supplements that are produced in countries with questionable production quality and standards. You may rest assured with Gene Blast Nutrition, as all our supplements are GMO-Free and produced in a GMP-certified facility right here in the UK.
Now it's finally time to boost energy and add muscle mass to look and feel like a beast.
⍟ Click ADD TO CART and get the Gene Blast Pre-Workout-RISK FREE! ⍟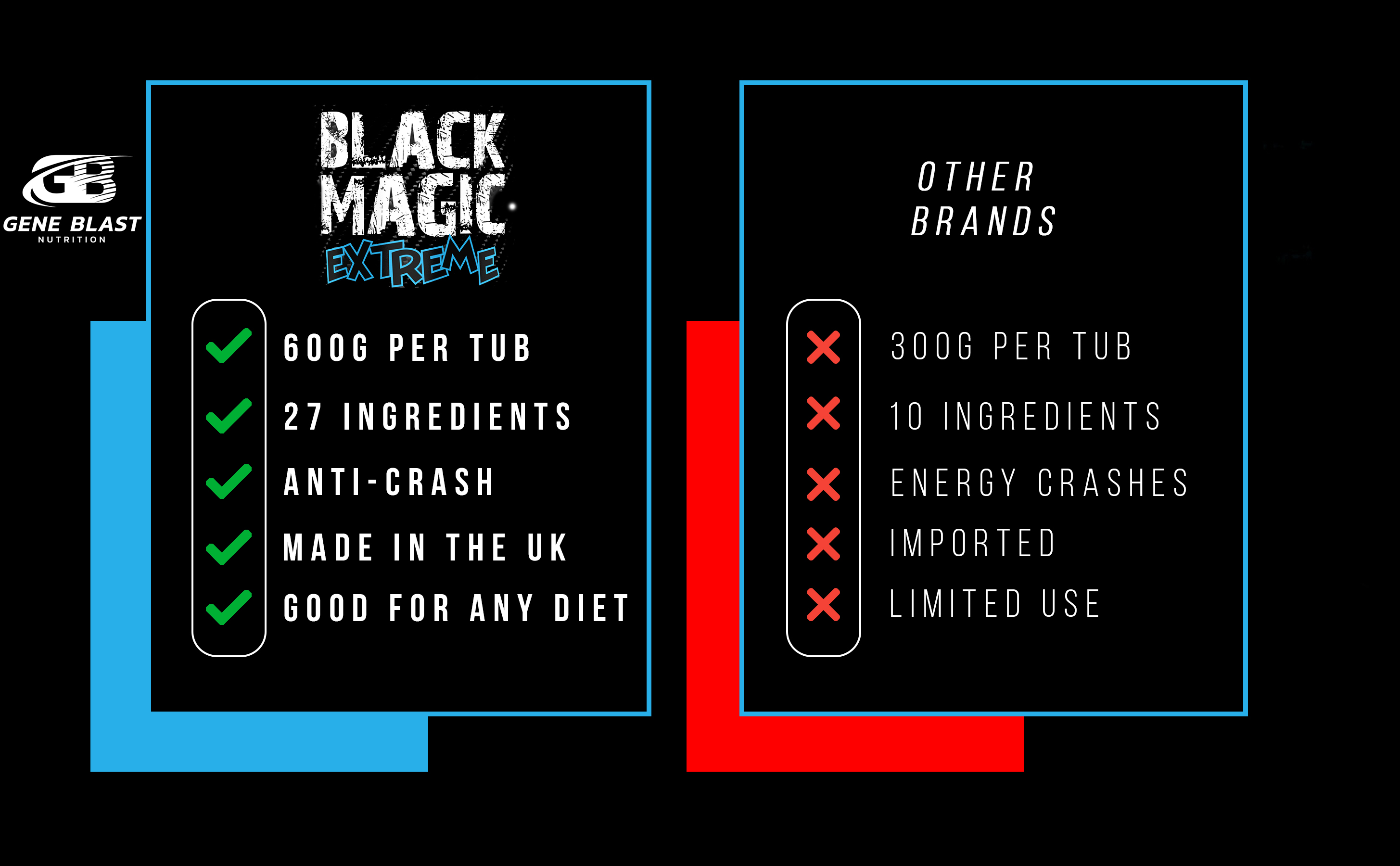 Next level!! you'll Never Loose That Pump Again
This pre workout knocks every other pre workout brand right out the park. On it's own it's gives you the most relentless energy, endurance, blood engorged pumps, strength spikes and intensity, now add their creatine XXL formula to the mix and it's 10X the effect. If your serious about training, then this pre workout is for you and I guarantee you'll never choose another pre ever again.
As a PT and YouTuber, I'm looking forward to recommending and reviewing Gene Blast nutrition range to all those who are absolutely serious about making a change to their fitness lifestyle permanently.
If you want tingles this is the one!
Does what it says on the tin. Doesn't mix the best but the tingles are there after about 10 minutes and gives me an original jack 3d buzz which is great. Haven't run out of energy yet even after longer harder workouts it's always the muscles that give way before I'm energy sapped. Would recommend highly for anyone looking for concentrated energy, a strong buzz and great pump as well
REALLY IMPRESSED
Just purchased black magic pre workout, very impressed with it. Defo recommend to my friends thankyou
AWESOME!
The best Pre workout I have tried
I have tried many pre workouts over the years with decent results from some of them, but after taking Black Magic the results have been very impactful. The pump, energy and endurance has been next level which makes the quality of workout more intense and fulfilling without the horrible itching and crash you get with some pre workouts. I love it.
I have also started to take Gene Blast Amino Stack and Smart Carb alongside Black Magic with awesome effects that just want to keep you in the gym
I take 1 scoop of Black Magic 30 minutes before I workout (which is more than enough for me)
I fill my shaker bottle to the top with water and add 1 scoop of Amino Stack & 1 scoop of Smart Carb and sip during training - just try it and see.
Chose the wrong flavour
Will get more, good pre workout - just took wrong flavour