A BLAST of Health and Energy for Men & Women
Boosting your body daily with all essential vitamins and minerals:
- Supports better mood & focus
- Increases energy levels & reduces muscle fatigue
- Reduces the signs of aging
- Assures optimal hormone levels
- supports brain & heart health
- In short, these mineral & multivitamin capsules unlock your genetic power, supercharge your active lifestyle and keep your body performing at a high level while protecting your health.
Non-GMO & Vegetarian
Our multivitamin and mineral supplement is formulated with non-GMO ingredients and is suitable for vegetarians.
Premium quality for your safety
Gene Blast Nutrition was founded with 1 goal – to produce high-quality health supplements that are both effective and safe. That is why Multi Blast is manufactured in a GMP (good manufactureing practice) Certified and ISO 2022 approved facility which means the planning, designing, documenting and implementing a comprehensive system of food safety management is in place. Buy from a brand you know is dedicated to the highest quality and safety.
Proudly made in the UK

To ensure constant quality, we formulate and manufacture Multi Blast in the UK under strict manufacturing guidelines.
Vitalized & energized or your money back
We deeply believe in Multi Blast. That's why in the improbable case of you not absolutely loving our Multivitamin and Mineral supplement we'll refund you. That's right, if you do not feel vitalized, full of energy and focused to tackle your tasks and workouts, every day, you can return the bottle. You are backed by our money-back guarantee!
Ready to feel vitalized, energized and healthy?
Get Multi Blast now RISK-FREE & redefine your health, vitality and well-being the EASY WAY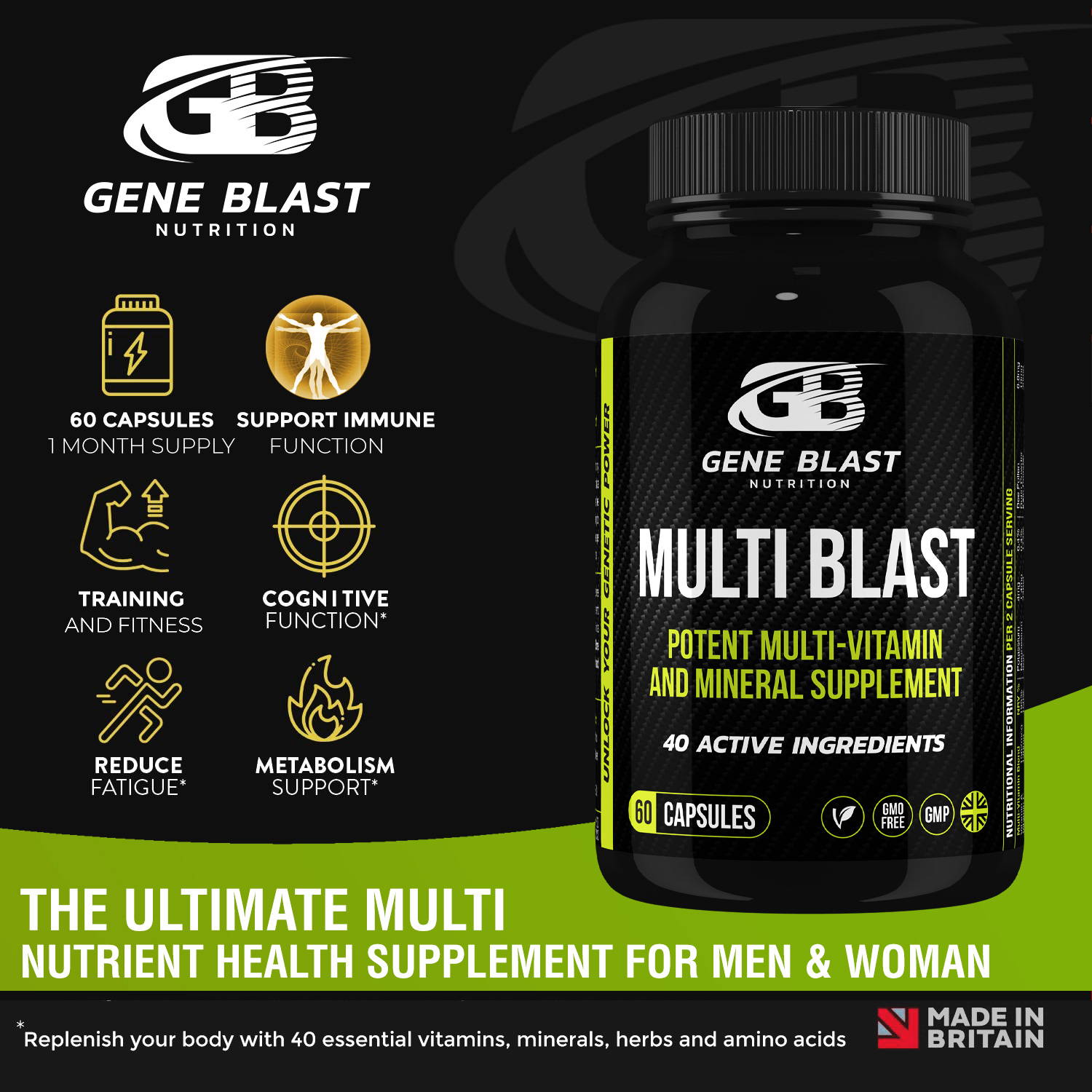 1000+ customers love this product
Multi Blast Multivitamins
I love Gene Blast! I have been taking it for a while now, along with a healthier lifestyle, and it has to be said, bearing in mind I am almost 65, I have the energy levels of your average 3 year old. I don't mind getting older, in fact I find it rather amusing (!) but I am lucky to have reached this age and to feel as fabulous as I do. Thanks Gene Blast.
great
Feel great.. and notice it them working after a couple of days well worth the price. They do smell really bad tho!
No More Lethargy!!!
I have been using Multi Blast Vitamins and Minerals for almost a month now and it has literally blown my mind away. I Used to Suffer from Lethargy and i can honestly say that day to day i feel so much more energised. I have been using other Multi vitamins in the past such as Holland And Barratt ABC Plus and it doesnt come anywhere close to the feeling that i get from Gene Blasts Multi Blast. Definitely Recommended for general health and wellbeing or in my case if you suffer from lethargy or generally feel fatigue in your day to day life.
FAST RECOVERY - Game Changer
One of my biggest challenges has been low energy levels and always feeling depleted in general and after training. I've now been taking Multi blast Vitamins for the 1 whole month and already see a HUGE difference. I feel that I have more energy that allows me to have a productive days and get so much done. I've also noticed i'm able to get to sleep quicker and sleep deeper which leaves me feeling fresh in the morning with less muscle soreness.
I previously used Centrum and Wellman but won't be going back to these.
Can't recommend the multi-blast product enough
Fantastic
Has a lot of vitamins in this, in comparison to other multi vitamins brands I've used. Since taking them I have more energy and less fatigue. My skin is looking great too. Fast delivery. Recommend this product!
100% money back guaranteed